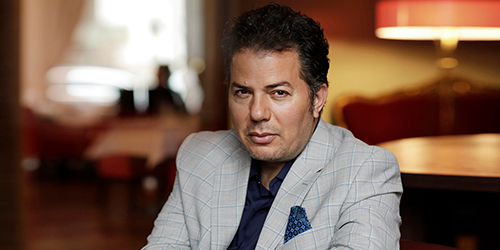 © Christine Fenzl
Autor*innenporträt
Hamed Abdel-Samad
Hamed Abdel-Samad, born in Cairo in 1972, studied English, French, Japanese, and Political Science in college. He has worked for UNESCO and held a professorship in Islamic Studies at the University of Erfurt and at the Institute for Jewish History and Culture at the University of Munich. Abdel-Samad was a member of the German Islam Conference and is one of the most profiled Islamic intellectuals in the German-speaking world. His autobiography My Farewell from Heaven caused a sensation: "His expectations for his countrymen are the same as those he has himself embraced: enlightenment through the breaking of taboos" (ZDF-Aspekte). As a result of his taboo-breaking, an official fatwa was placed on him in 2013. Since then, he has lived under permanent police protection.
Unter presse@dtv.de können Sie mit Angabe des Verwendungszwecks Autor*innenfotos anfordern.
Author events
Hamed Abdel-Samad in Nürnberg
Priscilla Hirschhausen »Hamed Abdel-Samad in Nürnberg«
Eine Veranstaltung der Initiative "gemeinsam grenzenlos/Die Vielen". Anmeldung unter: kulturwerkstatt@stadt.nuernberg.de oder Tel. (0911) 231 79555
10.05.2022 - 09.05.2022
17:30 - 22:00
Kulturwerkstatt Auf AEG
Fürther Str. 244d.
90429
Nürnberg
Hamed Abdel-Samad präsentiert "Islam"
Eine Veranstaltung der Richard Dawkins Foundation.
24.10.2022 - 23.10.2022
17:00 - 22:00
Haus der Wissenschaft
Sandstraße 4/5
28195
Bremen