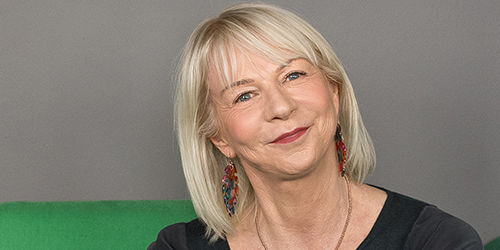 © Astrid Eckert
Autor*innenporträt
Rita Falk
Rita Falk was born in 1964 in Bavaria and still lives there. With her rural mysteries centered on village constable Franz Eberhofer and her novels Hannes and Radio Flyer, she has written her way into the hearts of her readers - including those far beyond Bavaria's borders. The films based on her Franz Eberhofer books have also been very popular.
Unter presse@dtv.de können Sie mit Angabe des Verwendungszwecks Autor*innenfotos anfordern.
Author events
Ab 4. August im Kino: GUGLHUPFGESCHWADER
Ausstellung mit Bildern von Rita Falk
Im Rahmen des 19. Krimifestivals München 2022 Galerie-Ausstellung am Ammersee: "FülleVollerFühleFarben" - Bilder von Rita Falk (Galerie noch top secret!)
Rita Falk präsentiert "Rehragout-Rendezvous"
Florian Wagner (Bayerisches Fernsehen) »Rita Falk präsentiert "Rehragout-Rendezvous"«
Rita Falk & Christian Tramitz präsentieren den 11. Eberhofer-Krimi »Rehragout-Rendezvous«. Eine Veranstaltung im Rahmen des »Krimifestivals München«.
22.06.2022 - 21.06.2022
18:00 - 22:00
Circus Krone
Marsstr. 43
80335
München
Author news
Preise & Auszeichnungen
HomBuch-Preis 2018
Rita Falk wurde im Jahr 2018 mit dem HomBuch-Preis ausgezeichnet.