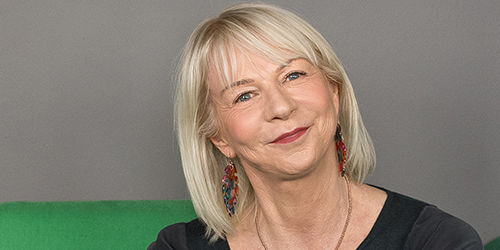 © Astrid Eckert
Autor*innenporträt
Rita Falk
Rita Falk was born in 1964 in Bavaria and still lives there. With her rural mysteries centered on village constable Franz Eberhofer and her novels Hannes and Radio Flyer, she has written her way into the hearts of her readers - including those far beyond Bavaria's borders. The films based on her Franz Eberhofer books have also been very popular.
Unter presse@dtv.de können Sie mit Angabe des Verwendungszwecks Autor*innenfotos anfordern.
Author news
Preise & Auszeichnungen
HomBuch-Preis 2018
Rita Falk wurde im Jahr 2018 mit dem HomBuch-Preis ausgezeichnet.
Im Kino
Jetzt im Kino: Das ›Guglhupfgeschwader‹
Endlich ermittlelt Franz Eberhofer, Bayerns entspanntester Dorfpolizist, wieder auf der großen Leinwand. Diesmal bekommt er es mit Glücksspiel und dem organisierten Verbrechen zu tun. Als mafiöse Geldeintrei...ber die frischgebackenen Guglhupfe der Oma zerschießen, hört für den Eberhofer der Spaß endgültig auf! Das ›Guglhupfgeschwader‹ ist die achte Eberhofer-Verfilmung. Nach dem Bestseller von Rita Falk.
more
less